November 27, 2013 / 12:05 AM (CET)
M&S and Barclay's "Thank you" ads and samples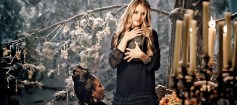 Two major UK adverts featuring original score composed and conducted by Guy Farley were recently released. The biggest campaign is usually associated with Marks and Spencer around Christmas and same as last year, Guy Farley composed the score for brand new campaign inspired by Alice in Wonderland. You can watch the advert here and also buy the sheet music for solo piano entitled Believe in Christmas that is available through Sheet Music Direct. Guy's short score is hailed as "Guy Farley composed a wonderful score that conjours up all the magnificence, magic and class that you would expect to accompany the visuals. Guy's knack for a great melody, and his skill of helping tell the story with his total control of orchestral layers and dynamics comes to the fore in his score."
The other campaign, which started a couple weeks earlier is Barclay's Premier League "Thank you" advert (see the previous post), which you can now also watch on YouTube. Guy is currently scoring new Thomsons ad campaign, following successful Where is my Mind ad from two years ago. More new project will be revealed soon...
Audio samples for all three recent major ad campaigns (Vodaphone, Barclays, Marks & Spencer) are available to listen here.
new interview with GF, three major ad campaigns
Guy Farley recently completed several new ads including: VODAPHONE 4G, which was recorded in August at Air Studios in London and features large orchestra. You can watch the ad here. The next one already completed is Barclay's Premier League "THANK YOU" ad, which will air in about a week. Coming up next is M&S X-MAS 2013 ad campaign, which is inspired by Alice in Wonderland and will be recorded next week at Abbey Road Studios with large orchestra and choir.
UPDATE (25th October): The M&S ad score has been recorded and you can check two photos from the sessions here: 01, 02 .
New interview with Guy Farley has been recently published by Music+Sound Awards. Guy is discussing not only his beginnings and his work in adverts but also how has his process changed over the years. It's a great read. Check it out here.
LATEST CDs
order at: iTunes , SAE, HMV, Amazon MP3
---
order at: MSM, SAE, Intrada, BSX, Amazon
---
RECENT PROJECTS

Tula: The Revolt (director: Jeroen Leinders)
status: post production
release date: summer 2013

Dementamania (

director: Chris Ryan)
status: post production
release date: summer 2013

Secret Sharer (

director: Peter Fudakowski)
status: completed
release date: spring 2014