January 18, 2015 / 12:40 AM (CET)
As mentioned in October 16th post, Guy Farley is currently finishing his score for new wild life documentary GROWING UP WILD. The movie will be hosted by David Tennant and not David Attenborough as originally planned. Coming up next is A GOOD AMERICAN, which will be co-scored by Christopher Slaski. More news coming soon...
---
October 22, 2014 / 9:30 AM (CET)
As mentioned in a recent post, Guy Farley's new ad for Renault, featuring his arrangement of That's Entertainment performed by Whinnie Williams aka The Sunday Girl was released last weekend and you can watch it below:
---
October 16, 2014 / 10:15 AM (CET)
After the success of Nature's MIRACLE ORPHANS Guy Farley has signed to score a new David Attenborough movie for BBC. Currently untitled project will feature an assembly of scenes and stories from his Natural History films.
He will be also scoring A GOOD AMERICAN - together with Christopher Slaski. It is about the US NSA, a code braking team who developed a surveillance which on a trail run before 9/11 found the terrorists. It was disregarded partly on account of being too cheap. it would have have averted the 9/11 attacks but was disregarded and buried. The score will be orchestral, to be recorded at Abbey Road in December.
---
October 16, 2014 / 9:58 AM (CET)
Last month Guy Farley has recorded his arrangement of Nat King Cole's When I Fall in Love for new SSE Scottish Hydro advert, which you can watch below. He also completed his work (together with Craigie Dodds) on Petite Meller's new album, for which he arranged and performed a few pieces.
Recently he also completed new arrangement of That's Entertainment featuring The Sunday Girl for new Renault Zoe film All is Calm (which will be released this Sunday in the UK and Ireland), as well as his original piece for Hiscox, which debuted in the UK earlier this week - also available to watch below.
Currently he is also co-producing (with Craigie Dodds) a new artist for Decca/Universal called Tokio Meyers.
---
August 25, 2014 / 10:15 AM (CET)
Nature's MIRACLE ORPHANS premiered on BBC One yesterday and lucky folks in the UK can watch first of them online. Second episode will premiere next Sunday. You can check schedules here .
---
June 25, 2014 / 02:42 PM (CET)
Guy Farley attended SECRET SHARER premiere earlier this week in London. The movie will officially open in UK this Friday and you can check a few photos from the Monday premiere below (click on images to display them in full resolution):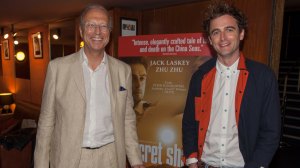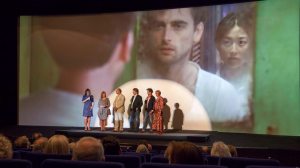 ---
February 28, 2014 / 07:54 AM (CET)
Congratulations to Guy Farley who won not one but two Music and Sound Awards last night for his work on commercials for Marks and Spencer (Best Original Composition in TV Advertising) and Vodaphone (Best Original Composition in Cinema Advertising). Here are first two pictures from the ceremony, which took place last night at Troxy, London.
---
February 13, 2014 / 10:58 AM (CET)
Guy Farley has been nominated for four M&S Awards for his work on commercials.
In Best Original Composition in Cinema Advertising: Vodaphone's "Lost in Content".
In Best Original Composition in Television Advertising: Vodaphone's "Lost in Content".
In Best Original Composition in Television Advertising: Marks and Spencer's "Believe in Magic and Sparkle" ´
In Best Sync/Use of Existing Music Re-Records and Adaptations: Guiness' "Made of More"
The winners will be announced at the 2014 UK Music+Sound Awards Ceremony on the 27th February 2014 at Troxy, London. For more information about Music and Sound Awards visit their website here . You can watch all three nominated ads below and listen to some of the music in "Other Compositions -> Commercials" section.
Secret Sharer
1. Theme (2:10)
2. My Own Ship (0:44)
3. Sudden Promotion (2:15)
4. Gulf Of Thailand (2:40)
5. In A Neat Pile (2:08)
6. At Sea (2:38)
7. The Girl (2:22)
8. Come To Life (2:21)
9. What Will You Do (1:51)
10. The Necklace (0:58)
11. A Fight (2:13)
12. Man Overboard (2:27)
13. Few Want To Love (1:54)
14. Horizons (2:15)
15. Dangerous Waters (3:25)

16. Short Like Yours (2:24)
17. Small Islands (3:20)
18. Xiamen (0:58)
19. Title Theme (2:38)

Tsotsi - The Unused Score
20. Stolen Baby (1:08)
21. Ghetto (1:22)
22. Baby Bath (0:59)
23. Broken Dog (3:09)
24. Can I Come Back (1:45)
25. Hills (1:47)
26. Mother to a Child (2:22)

Bonus
27. Audio Commentary by Guy Farley (3:53)




Newly launched record company Caldera Records will debut mid February with its first release offering not only Guy Farley's recent score for SECRET SHARER b ut also bonus suite from his unused score for TSOTSI and interview with the composer discussing these two scores in particular. For more information visit Caldera's Facebook page and the CD announcement follows:"We are happy to launch our new label Caldera Records which has been dedicated to release international soundtracks in the best possible quality. Every edition of released soundtracks features a detailed booklet-text, an exclusive audio-commentary of the composer and an elegant artwork to enhance the appreciation of the art of soundtracks from around the world. Our first release will be Guy Farley's magical, romantic score for the production of SECRET SHARER, directed by Oscar-winning producer Peter Fudakowski (TSOTSI) and inspired by Joseph Conrad's short story of the same title. Additionally, the CD features Guy Farley's unused score for the award-winning film TSOTSI. Both scores are CD-premieres, produced by Stephan Eicke and John Elborg. The CD will be available in Mid-February. We will keep you updated!"

---
November 27, 2013 / 12:05 AM (CET)
Two major UK adverts featuring original score composed and conducted by Guy Farley were recently released. The biggest campaign is usually associated with Marks a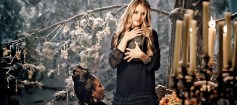 nd Spencer around Christmas and same as last year, Guy Farley composed the score for brand new campaign inspired by Alice in Wonderland. You can watch the advert here and also buy the sheet music for solo piano entitled Believe in Christmas that is available through Sheet Music Direct. Guy's short score is hailed as "Guy Farley composed a wonderful score that conjours up all the magnificence, magic and class that you would expect to accompany the visuals. Guy's knack for a great melody, and his skill of helping tell the story with his total control of orchestral layers and dynamics comes to the fore in his score."
The other campaign, which started a couple weeks earlier is Barclay's Premier League "Thank you" advert (see the previous post), which you can now also watch on YouTube. Guy is currently scoring new Thomsons ad campaign, following successful Where is my Mind ad from two years ago. More new project will be revealed soon...
Audio samples for all three recent major ad campaigns (Vodaphone, Barclays, Marks & Spencer) are available to listen here .